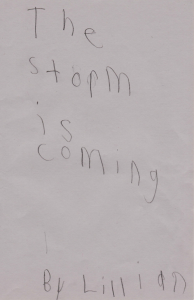 The wind was blowing the other day at a pretty good rate and Lillian decided to write a story. I asked if we could share it with all of you, so here it is! Again, I am not editing her grammar and punctuation!
The Storm is Coming – By Lillian

Oh! It is rain!

Oh! Frank! There's storm is coming

There's a cat up the tree.

Oh! Know.

The storm stopped.

But was little bit of storm is left.

Oh! The justred (still haven't figured out what word she meant here). Storm is gone now!

Hooray! Hooray! Hooray!

They are having the party now!

The End!

(Copyright © 2008 Pink Elephant Books – All Rights Reserved)
Below is a picture Lillian drew another time the wind was kickin' it up.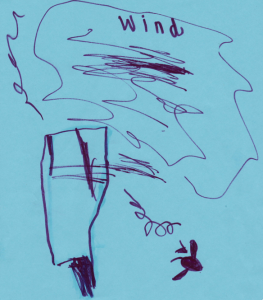 (©Artwork by Lillian – All Rights Reserved)
Moms Been Busy – Check it Out Here