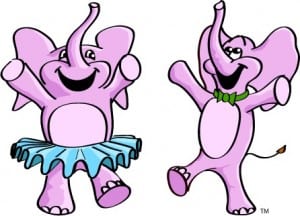 Simply to encourage everyone to pursue their own passion or strength.
We will do this by sharing Lillian's stories, artwork and photography with the world. We believe that no matter if a person has an intellectual disability or some other "disability" or "affliction" that person should be encouraged to share his/her unique gift/talent and to pursue his/her passion; and, to use their unique gift to make a living and support themselves.
Our plan is to offer the dancing Pink Elephants for purchase as stuffed animals and to use the profits to purchase augmentative communication devices for other 18p- children. **Update** We now do this through our 501(c)3 nonprofit Turning Views Foundation. And as funds allow to sponsor 18p- families to attend the annual Chromosome 18 Registry & Research Society conference. As further funds allow to spread the reach to all Chromosome 18 families. We will also soon be offering dancing Pink Elephants T-shirts for sale with the profits going towards the same goals. **Update** T-shirts are now for sale through our Pink Elephant Style Zazzle store.
Pink Elephant Books is a division of Turning Views Inc.