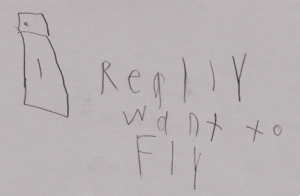 Here's another short story from Lillian. She is way too busy playing and being a 6 year old to enter it herself; so, Mom's helping out. She wrote this one last night on the laptop and then she decided to handwrite it also.
TITE: I REALLY WANT TO FLY

1 2

MOM HELP ME GET UP ON MY BED JUMING AND I SAID YES! SHECHED OUT MY HANDS

AND FLY.
I did not edit the story – this is how she typed it. I think everyone can figure out what she is conveying.
Choose today to help the children in your life Discover Their Gift.
Chromosome 18 Registry and Research Society – Overcoming the Obstacles