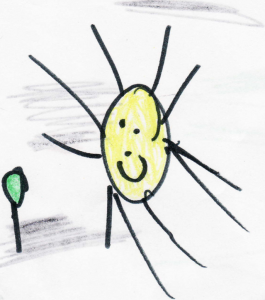 (©Artwork by Lillian – All Rights Reserved)
Today at Lillian's school they had a fire drill. This got Lillian very worried and she absolutely did not like the loud noise (she does not like loud noises). Also, it has starting getting warm here and Lillian got a little overheated during recess. After both of these incidents Lillian typed in her Dynavox unit for the teachers that she had 13 headaches! I thought that qualified for a Lillian NewsFlash!
No worries, though, by the time I picked her up at the end of the school day; she said all of her headaches were gone!