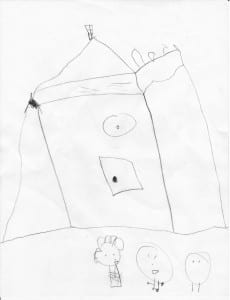 (©Artwork by Lillian – All Rights Reserved)
While we were camping this past weekend Lillian wrote a short story. She did this completely on her own and was very proud of herself.
Toest Tost

Once upon a time a girl named Toest and she liked to be marryed and the boy's name was Tost and Tost did say: yes.

And then a baby was here and the baby's name was Askee.

And they live Happiy ever after.

The end.

(© 2008 Pink Elephant Books – All Rights Reserved)
This is exactly as Lillian wrote it. I did not correct for grammar or spelling. Lillian had a ball getting dirty while camping so we'll write an article about that and include some pictures next week.
Want to Have Your Own Blog – Go For It