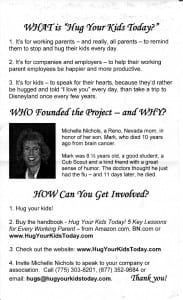 We had an incredible speaker at the last eWomen dinner last Wednesday, August 20, 2008. Her name is Michelle Nichols and she is a Reno, Nevada mom. She founded the "Hug Your Kids Today" Project and I wanted to let all of you know about this if you are not aware of it and to remind you if you are!
Michelle has written a beautiful book entitled Hug Your Kids Today! 5 Key Lessons for Every Working Parent
which gives more of her history and how this project came to life and most important why it began. Please make sure to visit the Hug Your Kids Today website to learn more and support this very important and worthy project.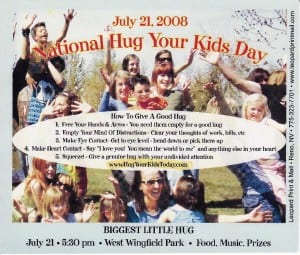 Chromosome 18 Research & Registry – Overcoming the Obstacles