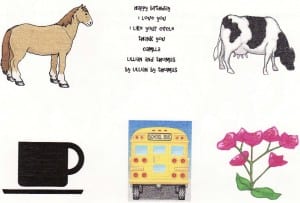 (©Written & Designed by Lillian Darnell – All Rights Reserved)
I was going through papers tonight and came across the birthday card Lillian made for me last February. I had intended on putting it on the site long before this, but it got lost in the Lillian pile. Lillian wrote the poem and designed the card on her own using my mom's computer.
Happy birthday

I Love you

I Like your circle

thank you

camilla

Lillian and thomas

by Lillian by thomas
That has got to be the most beautiful birthday poem ever written! What do ya'll think? Have one of your own you'd like to share? Please do – we would love to read them.