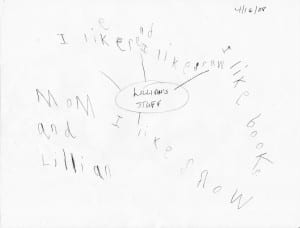 (©All Rights Reserved – Pink Elephant Books)
Here's another Lillian Darnell Mindmap to share. She mindmapped this last April and I just came across it again. This one is titled "Lillian's Stuff".
Mom and Lillian

I like red

I like draw

I like books.

I like snow.
She really has a blast doing this. I have another 1 or 2 in the Lillian pile (the pile is actually quit large)!! How about anyone else out there? Are you getting buried alive with your precious one's artwork and creations? Any tips or creative uses you use or have come across? Thanks for sharing!